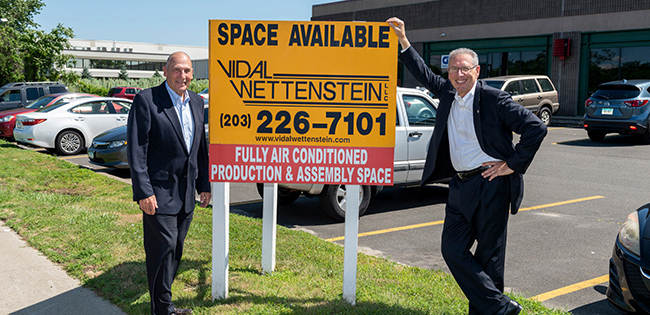 Join us as we reflect back on the last 50 years in business and stay tuned for upcoming events as we celebrate our milestone anniversary in October 2018!
Randy Vidal is the founder and principal of Vidal/Wettenstein which opened its doors in October 1968.  With over 100 years of combined commercial real estate experience among the five partners, the firm has participated in some of the most prominent real estate transactions in Fairfield and New Haven counties.  Some past clients include; Norwalk Transit District, Griffin Hospital, Connecticut Renaissance, St. Vincent's Medical Center and Unilever Corporation to name a few.
Learn More About Our 50th Anniversary
Half a Century of Teamwork at Westport Real Estate Firm
Vidal/Wettenstein, at 719 Post Road East, is celebrating 50 Years in business.
Randy Vidal honored by Jennifer Tooker First Select-Woman of Westport CT
Few companies can boast about the golden accomplishment that Vidal/Wettenstein achieved today. Here is second select-woman Jennifer Tooker honoring Randy Vidal for the firm's 50th anniversary!
An Expanding Set of Skills for Commercial Brokerage
Learn More | Read on The Commercial Record
Vidal/Wettenstein founder shows no signs of slowing, 50 years in
Learn More | Read on LinkedIn | Read on Facebook
WICC AM | Randy Vidal discusses local real estate.
Listen Here
Connecticut Real Estate Today: What Attorneys Need To Know.
Learn More | Read on LinkedIn | Read on Facebook
#TBT Randy hands off scholarship to Westport youngster to attend Joe Namath Instructional Camp.
Read on LinkedIn | Read on Facebook
#TBT – June, 1972: Randy Vidal, the then president of the Westport-Weston Board of Realtors, hands out scholarships to two local youths.
Read on LinkedIn | Read on Facebook
#TBT October 1973: Randy Vidal moves his commercial real estate brokerage to it's current location on Post Road East in Westport!
Read on LinkedIn | Read on Facebook